A question ?
Contact-us
Detailed Description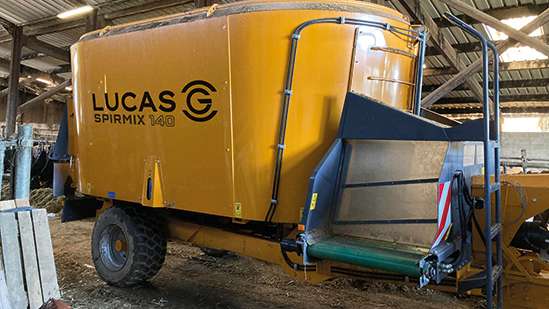 These single auger mixers are equipped with a distribution trap, it is perfectly suited to rations consisting mostly of silage. As standard, the distribution trap door is on the right side, adaptable to different configurations, it is possible to personalize the diet feeder with other distribution options. To facilitate distribution, the mix slides on a flap located under the trap door to move it away from the wheel axis.
Standard Specifications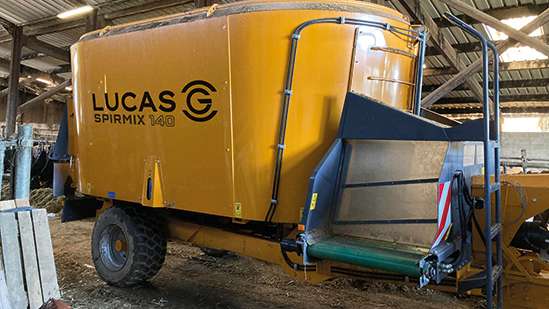 Front right feeding trap door
Mixing auger equipped with 6 reversible tungsten carbide knives height 1100 mm
2 Manual cut-off plates
Not programmable weighing box X 400
Two-speed gearbox
The standard machine uses 1 hydraulic function
Option: Customizable Conveyor

The conveyor can be offset manually by 30 cm or hydraulically by 37,5 cm to the right or left. They are fitted to the front or the rear of the machine to be able to distribute, even in dead-end corridors. In option, a 2nd hydraulic motor for left and right side distribution of heavy rations on both sides. To ensure distribution in the troughs, the following elevation solutions are available:
Elevating conveyor 0.9 m - Height of distribution 1 180 mm - Tank / conveyor offset 730 mm
Elevating conveyor 1,2 m - Height of distribution 1 340 mm - Tank / conveyor offset 920 mm
Elevating conveyor 1,5 m - Height of distribution 1 600 mm - Tank / conveyor offset 1 230 mm
Option: Customizable Auger

Depending on the density, the ingredients in the ration and the capacity of the mixer, it is essential to customise the mixing auger. Each auger can accept 8 or 10 knives per auger. The angle of attack of the knives can be adjusted to increase their aggressiveness. It is also possible to add a Neodymium Magnet on the auger which allows the recovery of ferrous foreign matter.