A question ?
Contact-us
Detailed Description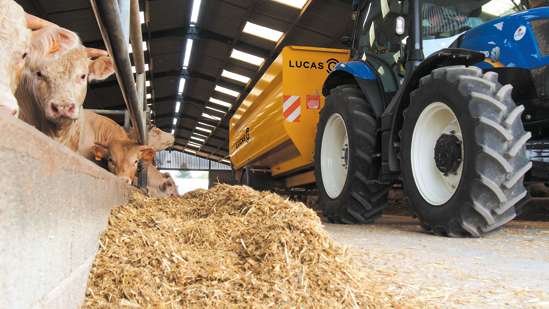 The diet feeder qualimix has the combination of mixing paddles and endless augers allow to make homogeneous ration from 300 kg of loaded material, this system is perfect to feed fresh ration to calves. Continuous mixing without second cut gives a outstanding quality of mixes with a gap of homogeneity lower than 2% on 60 meters of distribution. The kinematic with chains gives a power multiplier effect to drive all the components of the machine. The Qualimix is fuel-efficient machine that does not need lot of tractor power to be fully driven.
Standard Specifications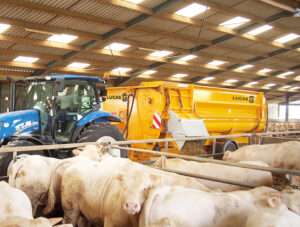 Front left trap door
Mixing hopper for fluids and concentrates
Spring loaded mixing paddles
Upper cutting rotor 
Not programmable weighing box
Suspended draw bar with permanent adjustment
The standard machine uses 2 hydraulic functions
Distribution Trap Door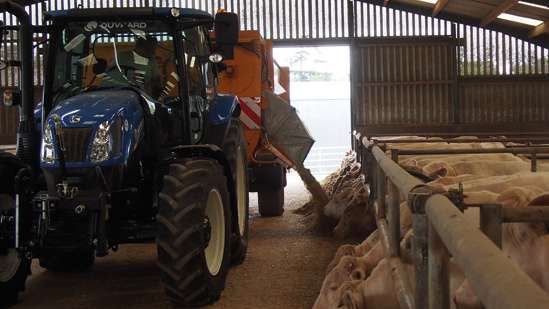 Located at the front left of the machine, it is operated hydraulically from the tractor cab. The lower endless auger brings the material to the trapdoor. The flap located under the trapdoor offset the swath of 40 cm to avoid any contact with the wheels. (Trapdoor width 1050mm).
Option: Small Ruminant Pack
In order to adapt this mixer to the needs of the goat and sheep environment, Lucas G has developed Pack small ruminants. It contains a horizontal feeding conveyor with distribution outlet reduced to 525 mm for distribution on a mechanised conveyor. Electric control in the cab and a second control at the front of the machine.